Parquetry Floors available in Adelaide
Parquet (from the French "a small compartment") is geometric pieces of wood used for a decorative pattern in flooring. Parquet patterns are often entirely geometrical & angular. The most popular pattern is herringbone however here at Parquetry Flooring Company in Adelaide we do many variations of Parquetry.
Parquetry floors are a sustainable, high end product, pleasing to the eye and easy to clean and maintain. Every floor is unique and can reflect the preferences of the home or business owner. Installing parquetry is the timeless craftsmanship laying small blocks of hardwood timber in different patterns which dates back hundreds of years.
Parquetry is a unique floor system that adds quality and value to new and renovated interiors. It has long been a traditional choice of flooring for Adelaide home owners.
Parquetry Flooring Company has been installing Parquetry Floors for over 50 years. They are the experts in the field of solid hardwood parquetry and engineered parquetry in Adelaide and South Australia.
Frequently asked questions about Parquetry
Is Parquetry more expensive solid floorboards?
In most cases the answer is NO!
How long will my solid parquetry floor last?
They should last a lifetime! Some care and maintenance may be required, but they are designed to be a lifetime floor.
Can I cover my stairs in solid timber or parquetry?
Are Parquetry floors hard to look after?
No, they do require a little care and maintenance over the years. You will need to give them a top up coat about every 7-15 years. The main need a sand and polish after 15 – 25 years. (These are just guidelines).
Does Parquetry come in engineered or floating floors?
Yes they do. See engineered-floating floors or keep reading below. PFC has engineered herringbone and chevron. These are also stunning parquetry floors designed to be installed pre-finished.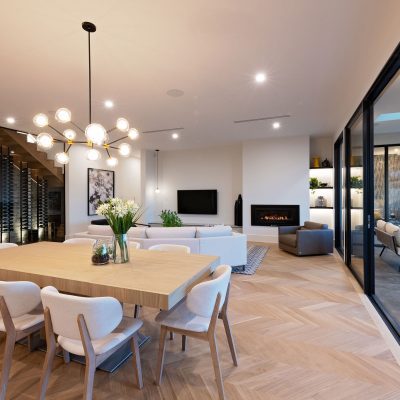 Parquetry Sizes
The standard size parquetry timber blocks are 260 mm x 65 mm and are either 19mm or 14 mm thick. Available in European Oak and Australian Species
European Oak Parquetry is available in larger blocks which are all 19 mm thick, they include: 715 mm x 125 mm, 625 mm x 125 mm, 600 mm x 125 mm, 400 mm x 80 mm, 390 mm x 65 mm & 260 mm x 65 mm
Herringbone Parquetry
The herringbone pattern dates back centuries and is easily explained as a flooring that creates a zigzag geometric effect using small to medium sized boards of exact size. Herringbone is a versatile pattern as you can install it with or without a border. We have different borders on display in our showroom.
Herringbone Timber flooring comes in both solid and engineered timber. We have a selection of Australian Timbers and European Oak on display in our showroom.
The standard size for traditional Herringbone Parquetry is 260 mm x 65 mm x 14mm or 19mm. This is available in European Oak & Australian Timber species. European Oak used for the herringbone patter is also available in larger sizes as in the picture to the left. The sizes we use are 400 mm x 80 mm x 19 mm or 450 mm x 90 mm x 19 mm.
French Panel Designs
Mosaic Parquetry
Mosaic parquetry is available in 3 different sizes:
All sizes are 8 mm thick.
Engineered Parquetry Flooring in Herringbone pattern and Chevron pattern have recently become available. These floors like the plank engineered or floating timber floors come pre-finished in a variety of stains. At this stage they only come in a matte finish. The have 7-10 layers of lacquer applied prior to being UV cured for longevity of your floor. These are available to view in our showroom.
Engineered parquetry has a 3 mm – 6 mm natural solid timber layer. The timber used is usually European Oak, however some companies are now making engineered parquetry in Australian Timbers. There are more colours and species available in our showroom.
To find out more about engineered parquetry visit us on Magill Road, Beulah Park or contact us
Herringbone Blackbutt with polyurethane finish

Square on Square Blackbutt Parquetry

Versailles Parquetry

Heritage Pattern in Blackbutt

French Herringbone

Tasmanian Oak Mosaic Parquetry examples

Engineered Herringbone Parquetry

Blackbutt Double Basket Weave Parquetry Semi Gloss Polyurethane Coating

Mosaic Parquetry – Gymnasium

Tasmanian Oak Herringbone with Jarrah Pinstripe & Soldier Borker

Blackbutt triple basket weave unsealed

Random Lineal Tasmanian Oak

Heritage 90 degrees Blackbutt

Heritage 45 degrees European Oak with Jarrah

Jarrah Herringbone

American Oak installed commercially
Square on square
Herringbone
Double Herringbone
Double Basket Weave
Triple Basket Weave
Chevron
Brick Bond
Heritage
Random Linear
Patterns can be laid at 45 degrees or 90 degrees.
Blackbutt
Brushbox
European Oak
Tasmanian Oak
Spotted Gum
Sydney Blue Gum
Southern Blue Gum
Jarrah
Tallowwood
Turpentine
We install in your home or business
Gymnasiums & Dance Floors
Timber is a natural material. There are variations in colours across all timber, even from the same species. No two trees are alike, just like no two pieces of timber are the same. There are a number of different finishes or coatings that can be applied after the floor is laid. The finishes we use are:
Solvent Based Polyurethane
Available in Satin, Semi-Gloss and Gloss. Solvent based polyurethane coatings brings out the warm colours of the timber and suit a wide range of homes. They are known for being an extremely tough and resilient coating for solid floors.
Water Based Finish
Available in Matt, Satin and Gloss. Water based finishes keep the timber colour lighter than solvent based finishes, giving a more modern lower sheen look. Environmental compliance is a common reason for choosing to use a water based finish, as they give off low VOC's. With low odour and faster drying time it provides the least disruption for customers.
Oil Modified Urethane
Available in Gloss and Satin. Oil modified coatings enhance the timber grain and give beautiful deep natural timber colours similar to solvent based finish. They tend to cure slowly in cold weather.